crunchy ancient grain puffs
Like those super scrumptious cheesy puffs we all love and know, but entirely corn free, NOTHING artificial, and non GMO! Made with US grown sorghum and avocado oil, these puffs are 90-100 calories per serving and available in Cheddar, Sriracha, Sour Cream & Onion and Barbeque!
WE ARE CHASIN' DREAMS
We're dreamers, creators, and feel-good-snacking creators. We transform humble ingredients into satisfying snacks. Here at Chasin' Dreams Farm, dreams run wild, flavor flags fly, and creativity sees no limits. Come celebrate incredible ingredients and lovable flavors with us as we craft the unexpected, combining sorghum and seasonings for the ultimate snacking experience.
With great excitement, welcome to the farm!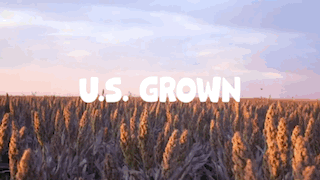 ...Wait, what's sorghum?!
Sorghum is an amazing US grown ancient grain that is naturally gluten free and non-GMO. It's super sustainable too! Sorghum is a drought resilient crop requiring zero irrigation to grow and regeneratively farmed. Regenerative agriculture is super important for reviving our farmlands and increasing the biodiversity in the soil. Basically, we are giving life back to our lands, it's as good for the planet as it is for you!
puffs NOW AVAILABLE ON AMAZON!
CHASE DREAMS WITH US @chasindreamsfarm
Like us, love us, & chase dreams with us!